Megan Diekemper
Class of 2016
"When I look back on my time at KC, I am thankful. I made lifelong friends and connections. This program and instructors went above and beyond to set me up for my professional career."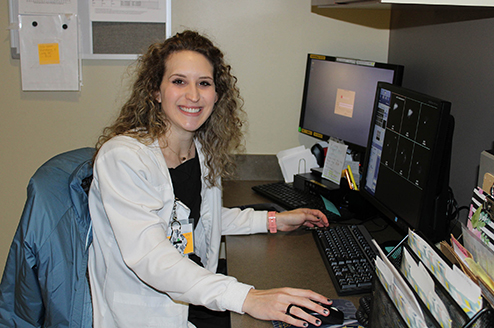 ---
Megan Diekemper is a 2016 graduate of the Kaskaskia College Radiology Program and is currently working in Nuclear Medicine with Cancer Care Specialists of Illinois.
"I actually did not get accepted into the radiology program when I first applied right out of high school. I mention this only to encourage interested students to not give up on their dreams. During that 'off year' I took as many prerequisite classes I could to get a jump start on the program and got my CNA to gain an extra point on the application".
Diekemper says that the KC Radiology Program prepares you for the 'real working world' while also prepares you for the registration boards. "I can still recite some of the facts and definitions Professor Mimi Polczynski and Sharon Elwood hammered into our heads. And, from what I've seen since my graduation, it has only improved its resources!"
She adds, "KC's program not only teaches you how to be a quality Radiologic Technologist but also gives students the chance to be exposed to other specialty modalities in Medical Imaging.
Kaskaskia's Director of the Radiologic Technology Program, Mimi Polczysnski says of Megan, "Megan is a huge asset to the imaging profession. She is dedicated to providing excellent care for her patients and has expanded her knowledge in multiple disciplines. Her positive attitude and drive sets her apart from others. She was a joy to have as a student and I am so proud of her accomplishments!"
Diekemper adds that during her last modality rotation, she fell in love with Nuclear Medicine. "I quickly applied to programs and was accepted to the program at St. Louis University which also included learning PET/CT and general CT. Without those rotations, I would not be where I am today".
In 2018, she graduated SLU with a Bachelor's Degree in Nuclear Medicine Technology. Her career has included working as a PRN in X-Ray/CT/Nuclear Med/Bone Density, and as a full time travel Nuclear Medicine Technologist. Most recently, she has accepted a new full time position with Cancer Care Specialists of Illinois. This position includes doing PET/CT, CT and Dexa exams.
Diekemper says, that "when I look back on my time at KC, I am thankful. I made lifelong friends and connections. This program and instructors went above and beyond to set me up for my professional career".