Kaskaskia College launches first cohort of new Aspirations in Manufacturing (AIM) program with high school students
September 5, 2023
---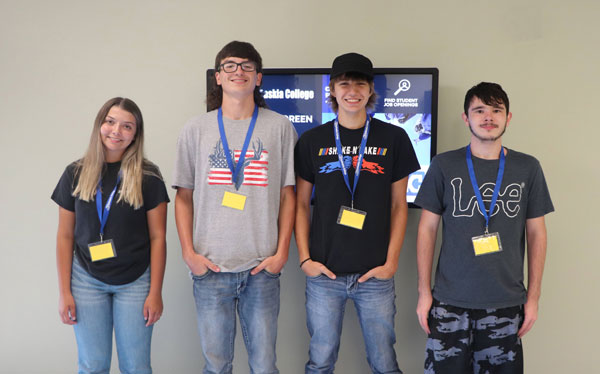 Centralia, Ill. – Kaskaskia College launched the first cohort of the college's new Aspirations in Manufacturing (AIM) program with four local high school students for Fall 2023- Spring 2024.
Riley Barbee (Radom), William Pedtke (Ashley), Aiden Hill (Sandoval), and Talan Robinson (Nashville) are the first high school students to take advantage of dual enrollment manufacturing courses and participate in industry tours to learn about manufacturing career opportunities available within the college's district. For the Fall 2023 cohort, the students' tuition, fees, and books are being paid for by the Innovative Bridge & Transitions Grant.
Participants will work with mentors from the manufacturing industry who will provide guidance and leadership to the students during their time in the program. At the end of the year, the students will complete a group project using the skills they acquired throughout the year.

The cohort's semester began with a welcome reception, inviting the participants' parents and representatives from local manufacturers to network and talk about opportunities in manufacturing. Representatives from Bettendorf Standard, EFI Solutions, Velocity Metalworks, Nascote Industries, and Republic of Tea were in attendance.

"One of the most difficult stigmas to break in manufacturing is the idea that there are no career opportunities in this area," stated Josh Day, Director of Electrical Operations at EFI Solutions. "As an industry partner with KC, we are proof this is simply not true. We're excited to see the AIM program promote the message to high school audiences to establish a steady stream of employable candidates in manufacturing careers."
AIM was developed out of a need for a pipeline to provide a workforce for local manufacturing industries. Currently, Illinois produces over $580 billion in annual manufacturing output – being the largest industry in the state when ranked by Gross Domestic Product (GDP). However, vocational programs in high schools within the KC district are limited due to the high cost of instruction and equipment.

Out of the 17 schools located in the KC district, only six are able to offer dual-credit coursework related to manufacturing, with minimal offerings available.

"We're expecting to see the largest growth in manufacturing career occupations within the next decade," stated Joy Fitts, Dean of Workforce Engagement & Industrial Careers. "Our program coordinators are constantly asked by their industry partners if they have any students available to join the workforce."

Fitts explained that the AIM program was brought about after attending several workforce/human resources and educational meetings separately, but each of the groups was having the same conversation: "How do we create a workforce pipeline to supply our rapidly growing manufacturers in this area?"

"If you are familiar with the local CEO programs," said Fitts. "We've modeled AIM after their program to support career exploration in manufacturing. We will be taking students on tours to manufacturers throughout the district to not only show them career possibilities but also to showcase products that are made locally."

To be considered for the AIM program, students must be a junior or senior in high school and located within the college's 501 district. To apply for the AIM program, students are required to fill out an application, include a letter of reference from a high school counselor, instructor, or administrator, be on track for graduation, and maintain a 2.5 GPA. The application for the next AIM cohort will begin in the spring of 2024.

To learn more, please call Joy Fitts at 618-545-3428 or by email: jfitts@kaskaskia.edu or Craig Boehne, Manufacturing and Work Based Learning Coordinator, at cboehne2@kaskaskia.edu.
Kaskaskia College is a public community college in Centralia, Illinois, within South Central Illinois District 501, serving all or part of nine counties, including Bond, Clinton, Fayette, Marion, Washington, Jefferson, St. Clair, Madison, and Montgomery. Committed to making education accessible, they host the Centralia Crisp Technology Center and have education centers in Greenville, Nashville, Salem, Trenton, and Vandalia, Illinois. The Higher Learning Commission accredits the college, which offers a broad spectrum of degrees, programs, and certification options, specializing in 2-year associate degrees and trade school programs. Founded in 1940, Kaskaskia College was the first Class I Community College established in Illinois.