Illinois College, Kaskaskia College announce ag program partnership
August 7, 2023
---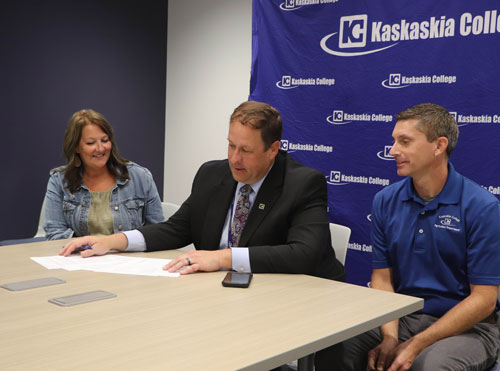 A new 2+2 partnership will provide a degree plan and transfer benefits for Kaskaskia College Associate of Science and Associate of Applied Science graduates leading to a bachelor's degree in agribusiness management from Illinois College, completed either on campus or online.

Illinois College and Kaskaskia College announced the partnership in a virtual event Monday with remarks by IC President Barbara A. Farley, Kaskaskia College President George Evans, and professors Jeff Galle and William Waggoner of IC and Kaskaskia College, respectively.

"The first of its kind for Illinois College's agribusiness management program, this new partnership will provide a seamless pathway for Kaskaskia College students who wish to finish their educational journey with a bachelor's degree," Farley said. "Illinois College looks forward to welcoming future ag industry leaders who began their studies at Kaskaskia College."

The partnership allows for a smooth transfer process, an accelerated pathway to a degree, and generous financial aid and scholarships for on-campus students. Interested students will have a dedicated IC admission counselor to support them during the application and transfer.

"This agreement is a testimony to the power of collaboration between community colleges and universities to help students succeed," Evans said. "The agribusiness field is on the rise, and it's exciting to see that this agreement will help drive growth in this sector for the next decade. With its strong agricultural base, I'm particularly pleased to note that the KC district will benefit greatly from this partnership. Thank you to everyone who participated in making this happen."

The partnership will make both on-campus and online degree options available to Kaskaskia students. The agribusiness program is also available online for students who need the flexibility to finish their degree remotely, either full- or part-time, and with an asynchronous learning environment.

Galle, a professor of agribusiness and coordinator of the agribusiness program, noted, "Kaskaskia has an outstanding agriculture program with tremendously experienced students, so we believe these students will add great perspectives and strengths to our agribusiness program. They will benefit from the high-quality education of IC's academics and faculty, which they will get to know and be mentored by while earning their bachelor's degree. In addition, their connections at Illinois College will give them a lifetime of friends and colleagues to share in their experiences, lives, and careers into the future."

Through IC's in-depth program, students gain knowledge of agribusiness fundamentals, modern industry tools, and hands-on experience with at least one internship. At IC, students have access to various unique learning experiences, including internships and student-faculty research, traveling to conferences to test their knowledge and skills, and hearing from industry speakers on campus. Recent for-credit internships and post-graduation employment opportunities for IC students have included top regional and national companies like Beard Implement, Brandt, Burrus Seed, GROWMARK, Prairieland FS, Whitetail Properties, and Worrell Land Services.
Waggoner is an assistant professor of agriculture at Kaskaskia College and leads Kaskaskia's strong agriculture program with Assistant Professor of Agriculture Aaron Heinzmann.

"We are excited to add Illinois College as an articulation partner with KC Agriculture," Waggoner said. "Their student-centered focus and dedication to preparing students for great agricultural careers is an excellent match for future KC Agriculture students."
Learn more about the Illinois College agribusiness management program on campus at ic.edu/agribusiness and online at online.ic.edu. Visit kaskaskia.edu to learn more about Kaskaskia's agriculture program.

Kaskaskia College is a public community college in Centralia, Illinois, within South Central Illinois District 501 serving all or part of nine counties including Bond, Clinton, Fayette, Marion, Washington, Jefferson, St. Clair, Madison and Montgomery. Committed to making education accessible, they host the Crisp Technology Center in Centralia, and also have education centers in Greenville, Nashville, Salem, Trenton and Vandalia, Illinois. The school, which is accredited by the Higher Learning Commission, offers a broad spectrum of degrees, programs and certification options, specializing in 2-year associates degrees and trade school programs. Founded in 1940, Kaskaskia College was the first Class I Community College established in the State of Illinois.