Continental Tire hosts first apprenticeship program signing with Kaskaskia College
August 7, 2023
---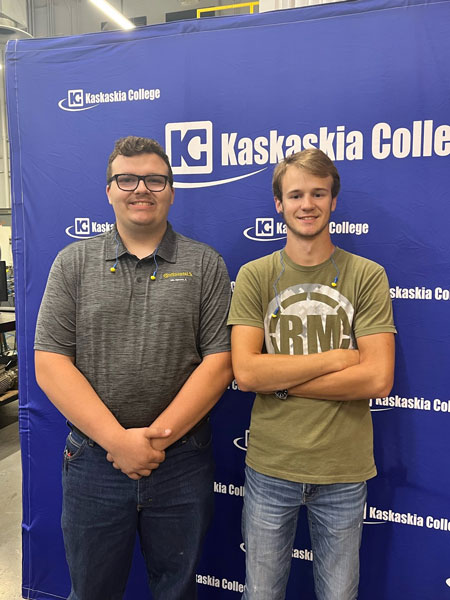 On the evening of Friday, August 4th, Kaskaskia College industry partner Continental Tire the Americas hosted its first apprentice signing event at their Mt. Vernon, Illinois, facility. The event was organized by Continental Tire Human Resources Manager Christy Carroll to celebrate the new cohort of apprentices selected to participate in the training program and show their families where the apprentices will work and train.

Apprentices will attend Kaskaskia College or Rend Lake Community College two days per week and work at Continental Tire three days per week. By the end of the two-year program, students will have completed an Associate of Applied Science degree in Industrial Technology with an electronics technician for industrial engineering focus.

Continental Tire Plant Manager Nick Pearce, administrators from Kaskaskia and Rend Lake Colleges, and Illinois State Representative Dave Severin spoke to the new cohort and their family members about the importance of the program for the development of our future workforce in Southern Illinois.

"The apprenticeship program you have chosen to participate in is a fantastic opportunity to obtain your degree with little to no cost, apply the skills you are learning in the classroom right here at Continental, and jump-start your career," said Kaskaskia College Dean of Workforce Engagement and Industrial Careers Joy Fitts. "This is the second year Kaskaskia has participated in this program. I am excited to partner with Continental Tire and provide this incredible opportunity for all of you and future apprentices in our region."

One of the first-year apprentices, Mitchell Miller, attended the event with his mother, Meredith Miller, and grandmother, Malinda Mitchell. Miller is a 2023 Centralia High School graduate and will attend Kaskaskia College this fall. Miller first heard about the program while shopping for night vision goggles at Walmart. He told the story of a gentleman standing in the same aisle looking for goggles that ended up in a conversation that eventually led to asking Miller about his plans after graduation.

When Miller expressed his uncertainty, the gentleman suggested that Miller look into the apprenticeship program at Continental Tire. The next day, Mitchell asked his high school guidance counselor about the program, and from then on, his future started to unfold.

"I had never thought about college after high school because I didn't know how I would be able to pay for it," said Miller. "At the time, I didn't have a job. I had thought about law enforcement but wasn't sure."

After Miller applied to the Continental Tire program, he interviewed with the Continental Tire apprentice hiring committee, which included a tour of the facility and meeting potential coworkers. "I loved it," said Miller. "This is such a great opportunity because Continental pays for my tuition and books, and I am excited about working for the company and having a good job."

Mitchell's mother, Meredith Miller, expressed gratitude for the apprenticeship program.
"Being a single mom - you don't have the extra money or opportunity to send your child to college. I wasn't sure how I was going to do it. Thanks to this program, Mitchell has that opportunity."

Second-year apprentice Cory Perry talked about how valuable this experience has been with Continental Tire. "I'm thrilled to be a part of the apprenticeship program for the second year," said Perry. "The experience has been beyond what I expected, allowing me to develop valuable skills while working alongside talented individuals. I was drawn to the program due to its reputation for hands-on learning and industry exposure."

The apprentices and their family members were able to view the new on-the-job apprenticeship training classroom at Continental Tire, meet their classmates and other apprentices who have completed their first or second year of the program, as well as tour the Continental Tire facility.

For more information about the Continental Tire apprenticeship training program, contact Kaskaskia College Dean of Workforce Engagement and Industrial Careers Joy Fitts at 618-545-3113 or jfitts@kaskaskia.edu.

Kaskaskia College is a public community college in Centralia, Illinois, within South Central Illinois District 501 serving all or part of nine counties including Bond, Clinton, Fayette, Marion, Washington, Jefferson, St. Clair, Madison and Montgomery. Committed to making education accessible, they host the Crisp Technology Center in Centralia, and also have education centers in Greenville, Nashville, Salem, Trenton and Vandalia, Illinois. The school, which is accredited by the Higher Learning Commission, offers a broad spectrum of degrees, programs and certification options, specializing in 2-year associates degrees and trade school programs. Founded in 1940, Kaskaskia College was the first Class I Community College established in the State of Illinois.